Description
Home alarm can realize real-time monitoring of single households, and can also be monitored by multiple households (cells)
1. Home alarm can realize real-time monitoring of computer, WIFi and IPad via WiFi connection
2. Home alarm can be centralized in the residential area, all alarms are connected via WiFi, centralized monitoring in the monitoring room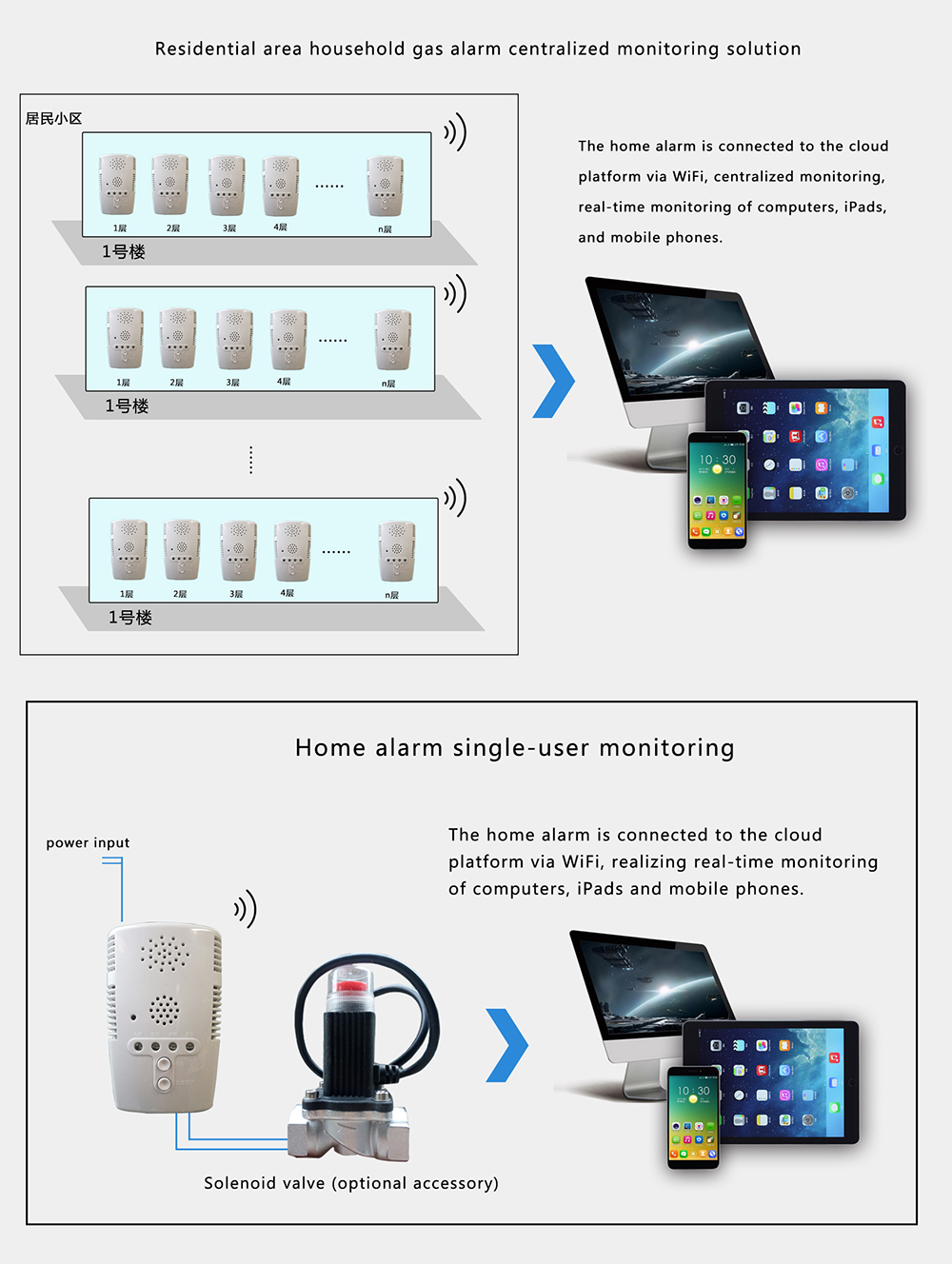 Functions Features
GY series combustible, explosive and toxic gas leakage detector is made of high quality gas sensors, advanced electronic technology and sophisticated technology. In homes where there is natural gas and toxic gas, once the concentration of liquefied petroleum gas, natural gas, city gas, carbon monoxide, hydrogen and other gases reaches the set warning value, the GY gas detector will faithfully send out sound and light alarm signals to remind you to take effective measures immediately, or start a linkage device to ventilate or close the gas source to eliminate dangers, to effectively avoid the occurrence of fire, explosion, asphyxiation, death and other malignant accidents.
GY Independent Household Gas Alarm

Detection principle

Semiconductor/electrochemistry

Gas detected

Natural gas/liquefied gas/artificial gas

Sampling mode

Natural diffusion

Detection range

0~100%LEL

Response time

≤30s Automatic recovery

Environment temperature

(0~55)℃

Power

AC220V±15% 50Hz

Power consumption

Static power consumption < 1W, dynamic power consumption < 1.5W

Relative humidity

≤95%RH, No condensation

Pressure

(86~106)KPa

Alarm mode

Sound&light alarm

Alarm volume

≥70dB

Weight

370g

Size

(12×8×5)cm

Installation

Wall mounted
Get In Touch
Please feel free to submit your inquiry information to us! our sales manager will contact with you as soon as possible.